Excellent Coaching.
Exceptional Results.
Achieve Your Fitness Goals with FNS Fitness Concierge
Brian is the founder of FNS Training Center, a distinguished performance training facility that provides a one of a kind "team training" experience along with personal training, nutrition coaching, and mental conditioning.
Brian is an internationally recognized industry leader and award-winning presenter, and he inspires coaches and clients all over the world. He is one of the most sought-after coaches in the world, specializing in athletic performance, mental conditioning, and business leadership.
With 15+ years' experience in the fitness industry Brian has helped impacts the lives of thousands of people throughout the world along with working with some of the biggest brands on the planet.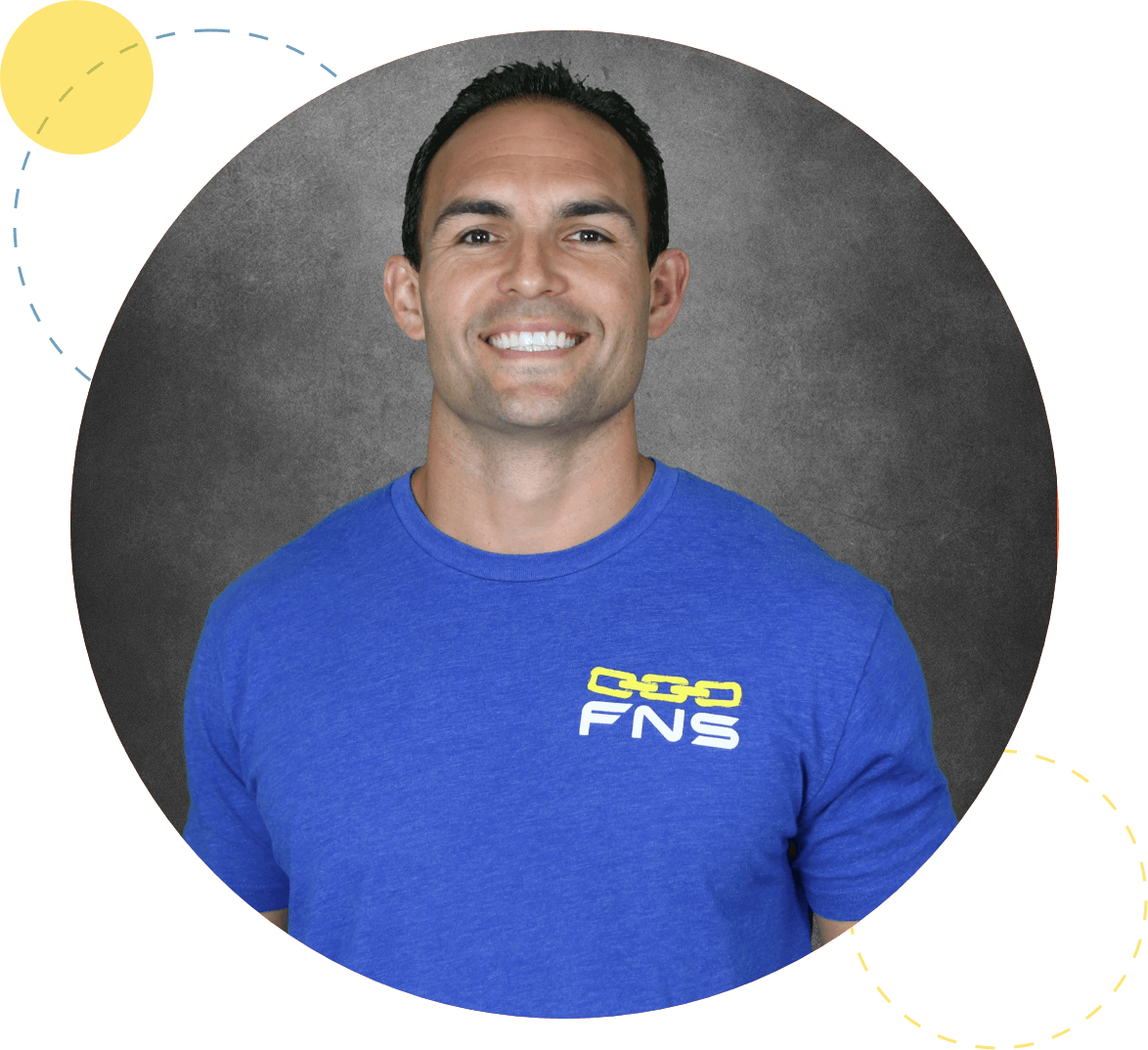 EXPERIENCE
Owner and Founder of the FNS Training Center (8 years). Ranked top Gym in the Bay Area 4 years in a row.
Personally coached more than 20,000 Training sessions in his career.
Author/Creator of the Game Planner. A Performance Planner helping people live a more focused, fulfilled and free life. (2018)
Nike Master Trainer (2014-Current)
SPRI Advisory Board (2012-2015)
SPRI Lead Master Presenter (2012-2016)
EMPOWER EVENTS Male Presenter of the year (2014)
Lululemon Elite Ambassador (2009-2013)
Creator of Rise Up Retreats. 3 Night Immersion retreats unlocking peoples potential through intensive personal and professional development. (2017)

AWARDS
IDEA WORLD AND Under Armour NATIONAL "I WILL" CHALLENGE AWARD
WINNER
2014 EMPOWER EVENTS MALE PRESENTER OF THE YEAR
2016 SCW BOSTON MALE PRESENTER OF THE YEAR
4 Time Best Gym in the Bay Area by Metro Magazine
2019 IDEA WORLD Trainer of the Year

CERTIFICATIONS
BS- Kinesiology SJSU
NASM- CPT, PES
CHEK- LEVEL 1 CERTIFIED
TFW- LEVEL 1 CERTIFIED
TRX Certified
Ignite/Combine360 Master Trainer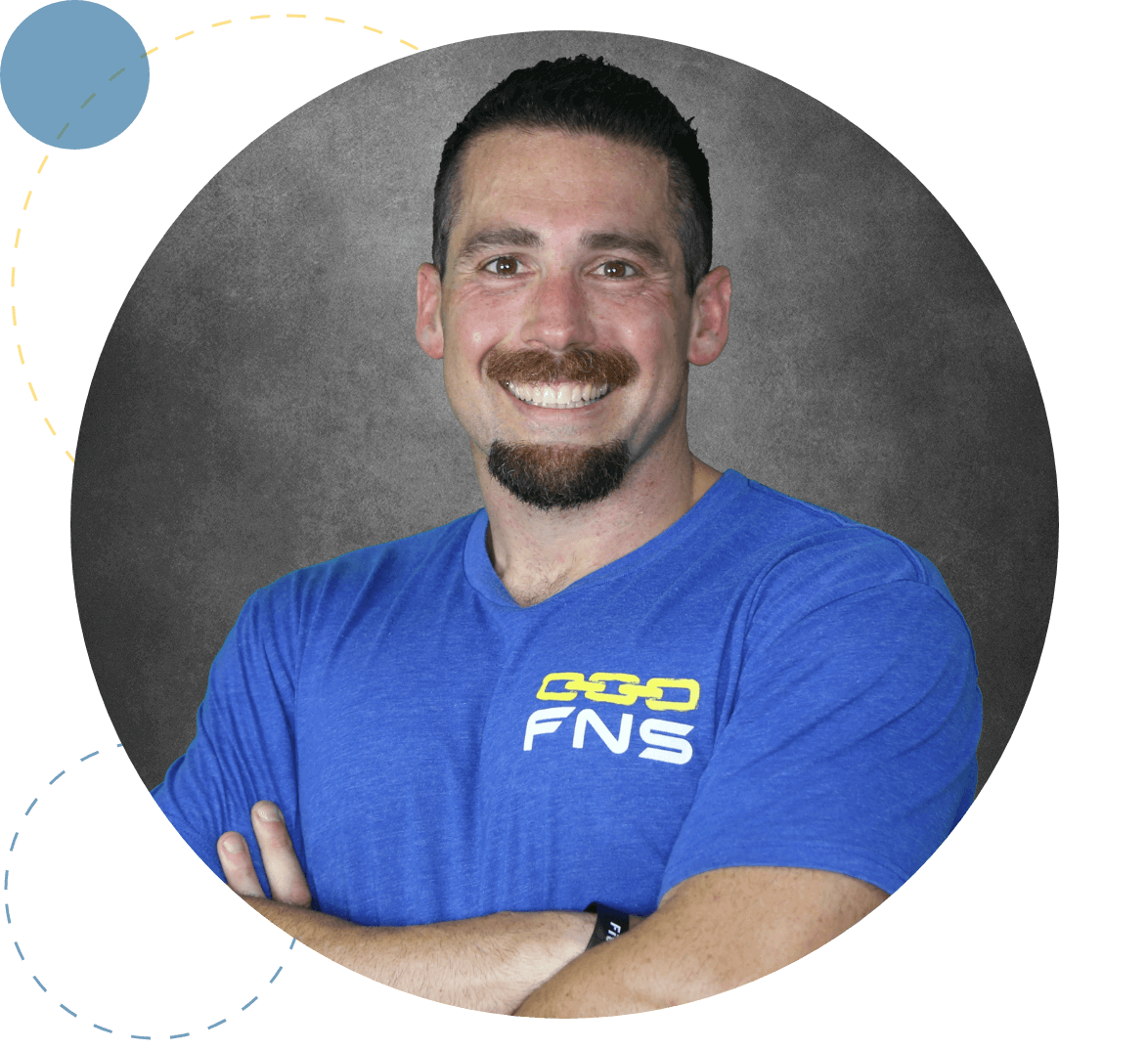 Brendan has been an FNS Athlete since July 2016 and an FNS Coach since April 2019. He is motivated and dedicated to making every training experience fun, challenging, and rewarding for every athlete he serves. He has a passion for outdoor adventures and love obstacle course racing such as Spartan, Rugged Maniac and Tough Mudder. 

EDUCATION/ CERTIFICATIONS
BA in Child Development- SJSU
Beach Body & Les Mills Group X Certified

FAVORITE QUOTE
All it takes, is all you've got!
Stephanie is passionate about sharing her experience and knowledge. She strives to inspire, guide and support women as they get in the best shape of their life. Stephanie is a fitness and nutrition enthusiast but tries not to make things complicated. She likes to keep it simple, fun, effective, sensible, and sustainable. She just wants people to lead a healthy, balanced lifestyle.   
As a mother of 4 teenagers who has had a C-section and recovered from diastasic recti., she has a special interest in helping women.  
Stephanie is from Saskatchewan and grew up on an agriculture farm. She likes to keep busy around the house and work in the yard. She loves California for the heat, beaches, endless summers, and no mosquitos. She also enjoys spending time with family and friends.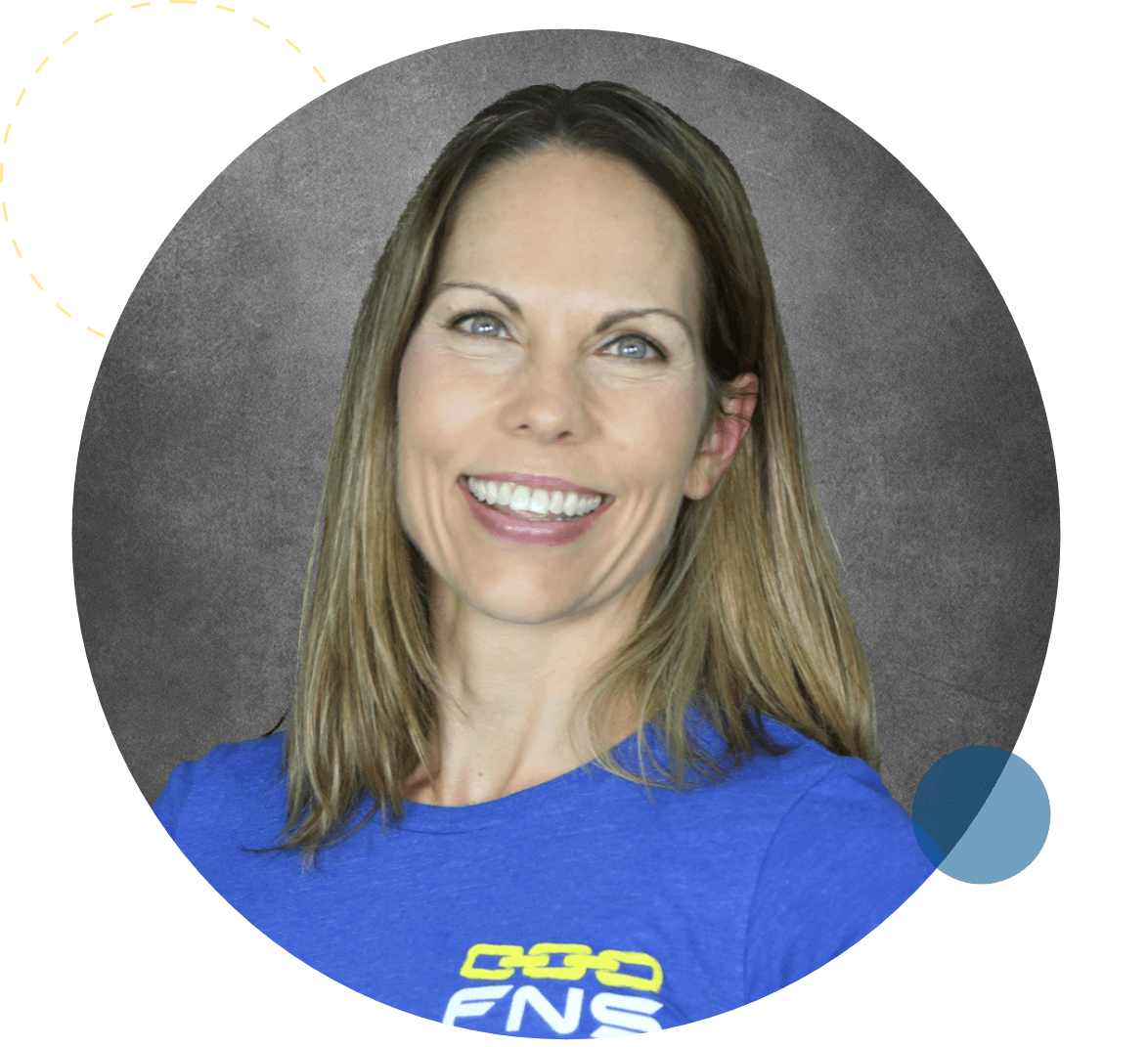 EDUCATION/ CERTIFICATIONS
ACE certified Personal Trainer
Nutrition Mentor
Pregnancy and Postpartum Recovery Exercise Specialist (in progress)

FAVORITE QUOTE
EMBRACE challenging yourself. LOVE taking care of yourself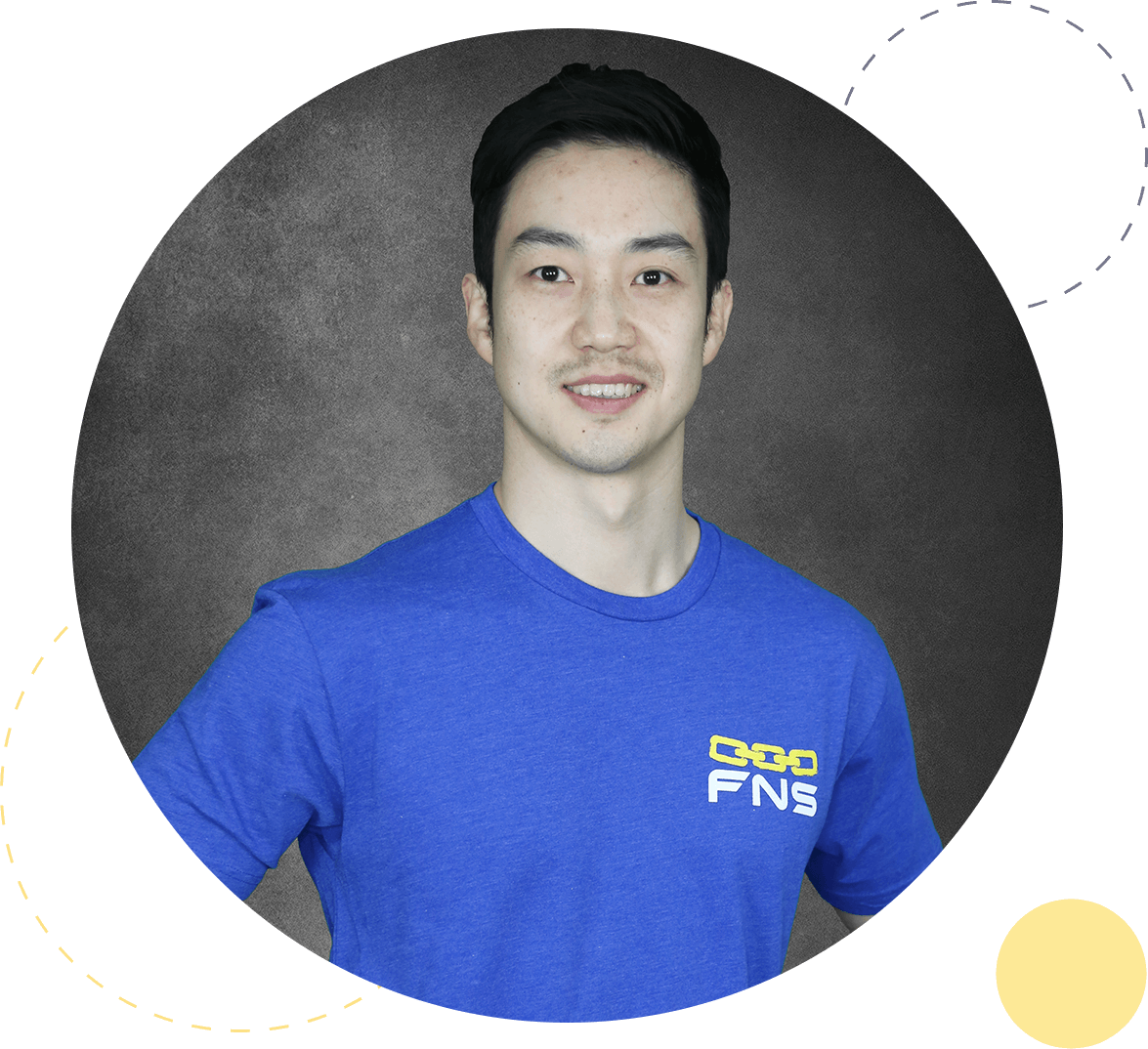 Coach Jae started his fitness career with the hope of positively impacting people's lives and helping them reach their potentials.   
Over his years of coaching, he couldn't help but think, 'what is fitness for?'. The word fitness appeared to be misused frequently to determine one's level of physical condition, but often it entailed a set of standards created and imposed by others.   
Eventually, his focus shifted to the concept of wellness as it contributes more to the quality of human life. Jae firmly believes in helping people re-discover and re-define what makes them truly fit and well.  
One of FNS's core beliefs is to "Define your fit". Jae couldn't agree more, and joined the FNS team to listen, learn and lead from the front. He is ready, willing, and able to serve with gratitude and passion. 

EDUCATION/ CERTIFICATIONS
Bachelor's in Communication Studies from San Jose State University
NSCA -Certified Strength and Conditioning Specialist (2019)
USAW Sports Performance Coach (2014)
Gym Jones Athletic Development Level 1,2,3 & Internship (2011-2014)
NASM – Corrective Exercise Specialist (2011)
NASM – Certified Personal Trainer (2011)
De Anza College- Certified Personal Trainer (2010)

FAVORITE QUOTE
Don't practice until you get it right. Practice until you can't get it wrong.
Mary is a California native, fitness enthusiast, and certified personal trainer with a passion for inspiring people to live their happiest and healthiest life. Her mission is to have a positive impact on people's lives by helping them reclaim their health and transform their lives.   
Mary enjoys the process of coaching others to improve health, fitness, wellness, while maximizing their true potential for a quality life. She is devoted to serve and provide the best client experience by connecting and building relationships that will last a lifetime.   
Mary enjoys spending time with family, being adventurous, travelling, baking, dancing, piano, tennis, and fundraising for a variety of organizations.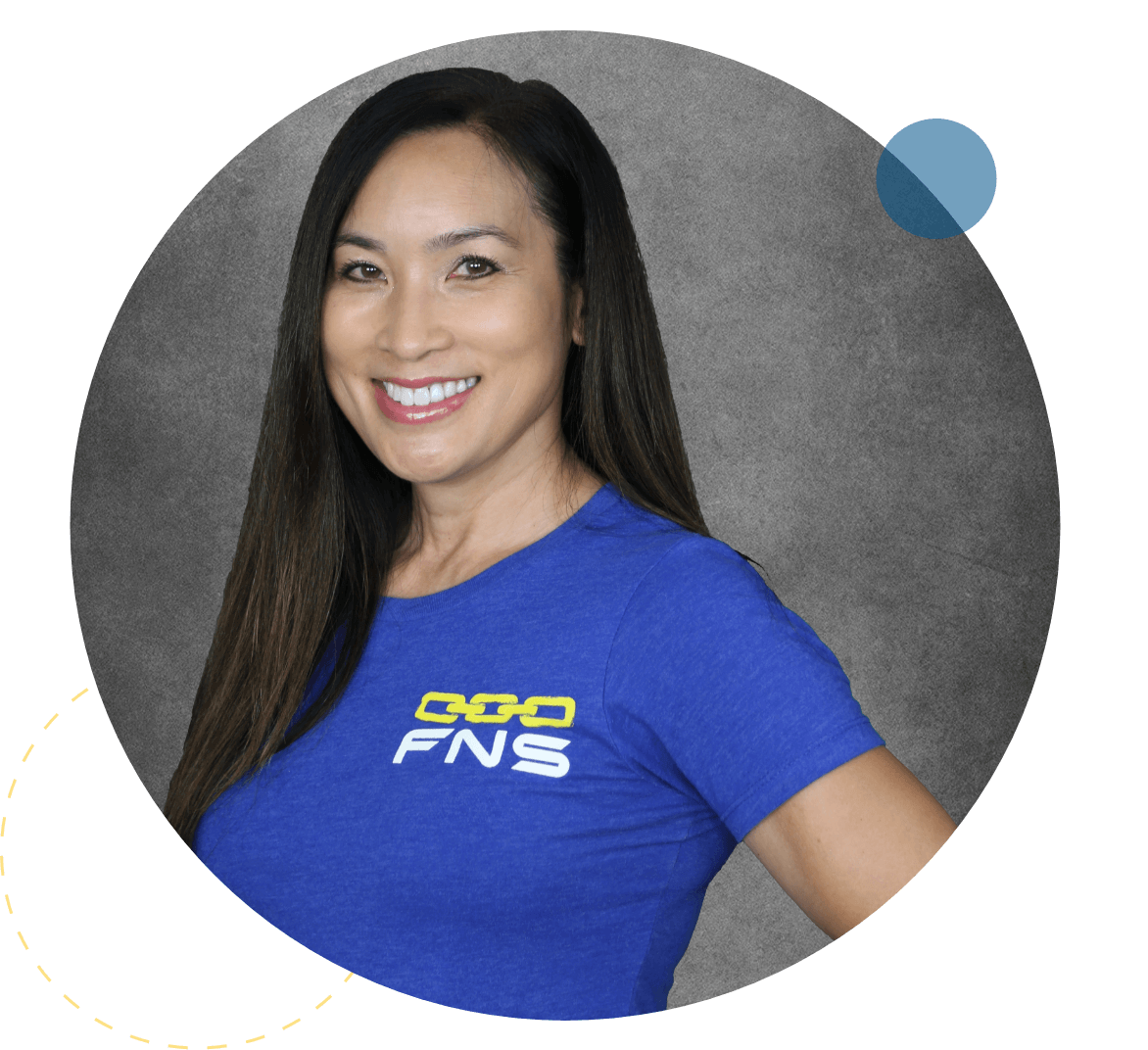 EDUCATION/ CERTIFICATIONS
BS in Industrial Technology, Cal Poly San Luis Obispo
NESTA CPFT and FNC, Spencer Institute CWC, AHSI (CPR and AED)

FAVORITE QUOTE
If you can't fly then run, If you can't run then walk, If you can't walk then crawl, but whatever you do….keep moving forward.
– Martin Luther King Jr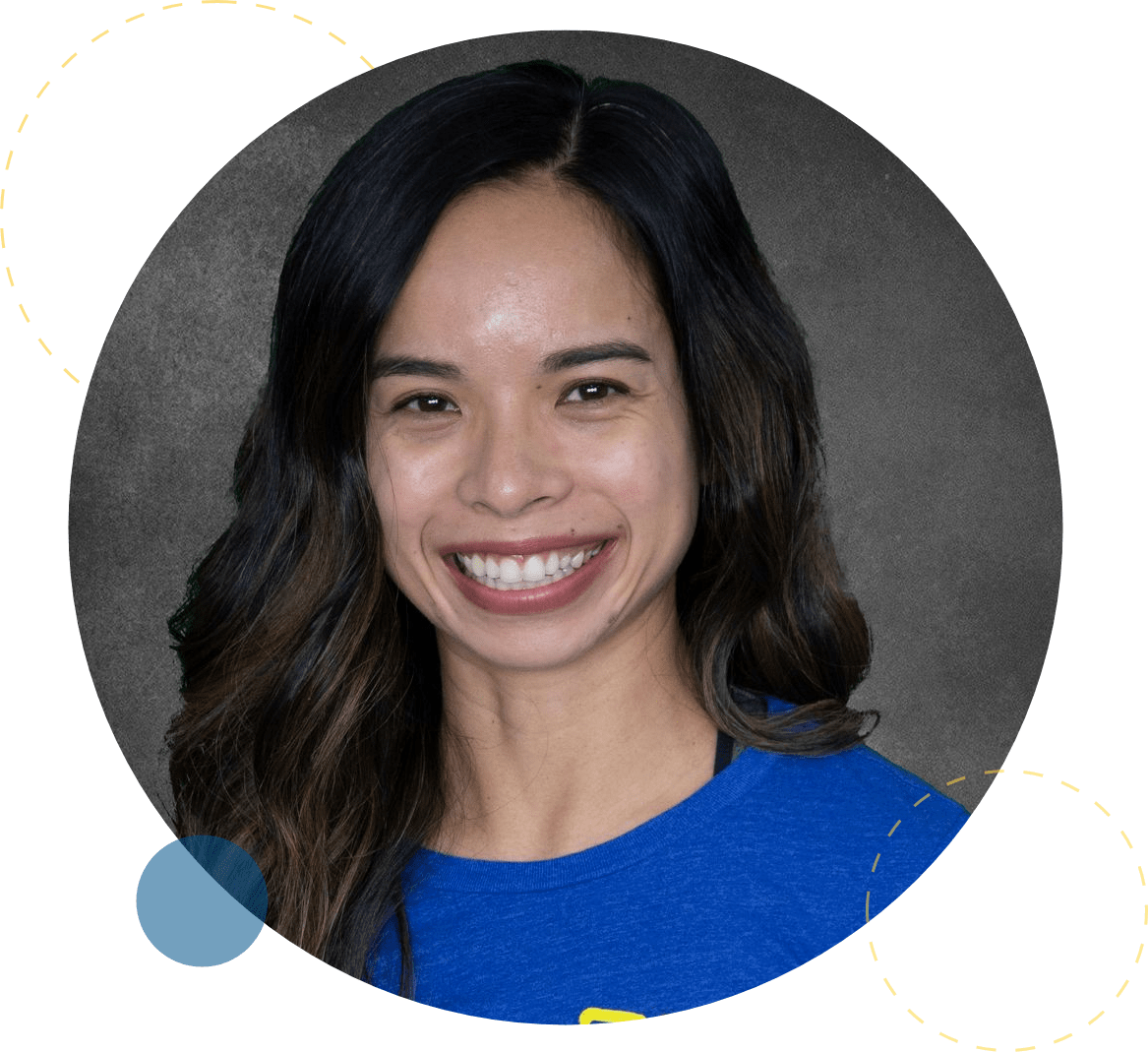 Coach Pam is a lifelong athlete, who started with volleyball and track in middle-school and continued into flag-football and vinyasa yoga after college. Her years spent playing competitive team sports inspired her to join a fitness center with a focus on community and personal achievement. She has been an athlete at FNS since 2014.   
A schoolteacher for 8 years, Coach Pam now combines her love of education with her passion for movement. She believes in building self-confidence through discipline, consistency, and focused exercise. In her spare time, Coach Pam can be found dancing, rapping, or playing fetch with her dog, Mozzarella.

EDUCATION/ CERTIFICATIONS
B.A. Liberal Studies from UCR
Multiple Subject Teaching Credential from UCR
M.A. in Educational Leadership from SJSU
Tier 1 Administrative Credential from SJSU
FNS Coaches Certification
NASM CPT

FAVORITE QUOTE
At the end of the day, we can endure much more than we think we can.
– Frida Kahlo
Coach Mike has a passion for positively impacting the lives of others through physical activity and holistic practice. As a former athlete, he strives to make fitness fun and inclusive similar to a sport team environment. After obtaining his bachelor's in psychology with a minor in kinesiology at California State University Fullerton, he worked with a variety of athletes in motor performance training and sport specific practice.   
Currently, Mike is studying at John F Kennedy University. He is pursuing a master's degree in sport and performance psychology. Additionally, he is working on obtaining NASM by the spring of 2021. As a big believer in the importance of mind-body connection, coach Mike strives to bring out the best in each athlete!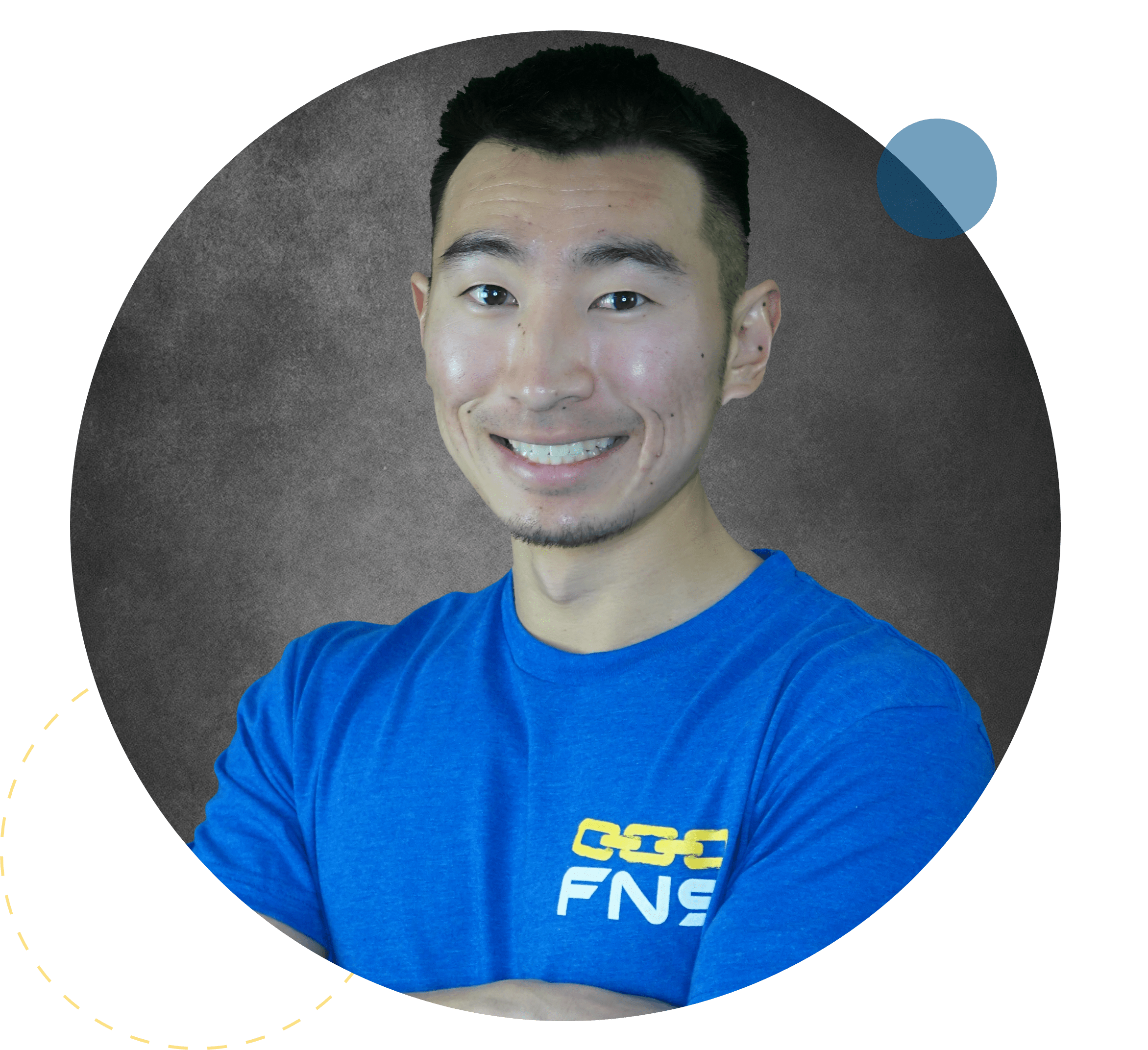 FAVORITE QUOTE
"The one thing we wanted to happen often times is the best thing that never happened" – Dwayne "The Rock" Johnson

EDUCATION/ CERTIFICATIONS
MA John F. Kennedy University (expected summer 2021)
BA Psychology Minor Kinesiology
EXOS Fitness Specialist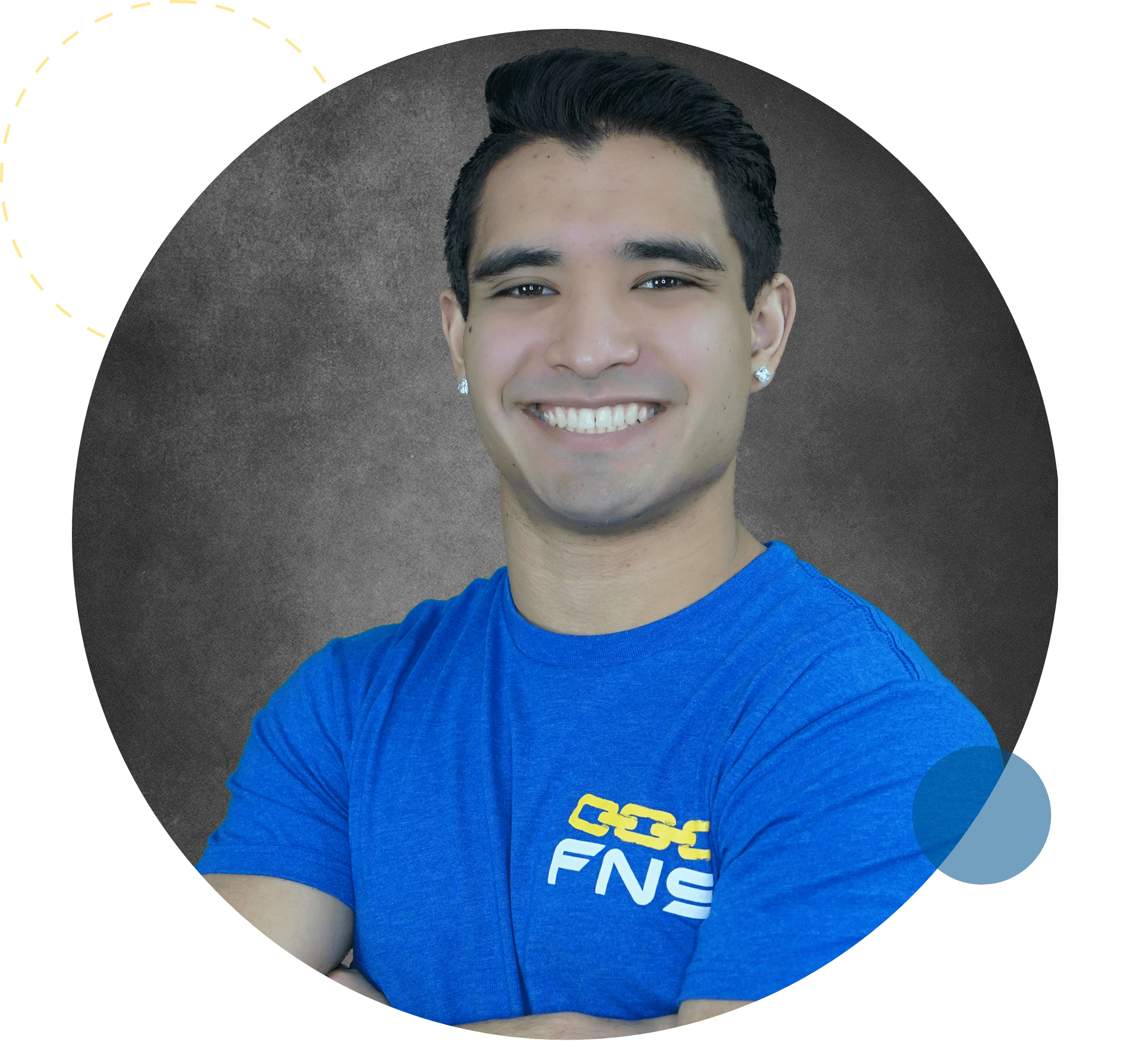 Mark Gervolino is a recent Tech Fellow Graduate from Flockjay, as well as a graduate of San Jose City College.   
Mark has been an athlete all his life. He has been training in Taekwondo, Karate, MMA, Boxing, & Brazilian Jiu-Jitsu since he was 5 years old. His passion for mentoring and coaching comes from the ideology of impacting another person's life in a positive way. He was an Athlete of FNS for over 2 years before he transitioned from to coaching in order to bring out the best in others. 

FAVORITE QUOTE
"If you refuse to go down, then you're already insanely strong."

EDUCATION/ CERTIFICATIONS
Graduate, San Jose City College
Recent Tech Fellow Graduate from Flockjay
Coach Matt is determined to grow and lead in the fitness industry. After spending his entire youth life participating in sports such as football, basketball, and baseball, Coach Matt has found a passion in trying to inspire others physically, mentally, and spiritually through fitness.   
Matt has found a strong interest in health and the human body, which has led him to help others achieve excellent health and wellness. Matt's history in sports and weightlifting has motivated him to learn all that he can physiologically and psychologically while teaching and guiding others to better themselves. He believes there is more to fitness than physical appearance and devotes himself to changing lives.   
As an FNS coach, Matt hopes to grow in knowledge and experience while helping others achieve their personal goals.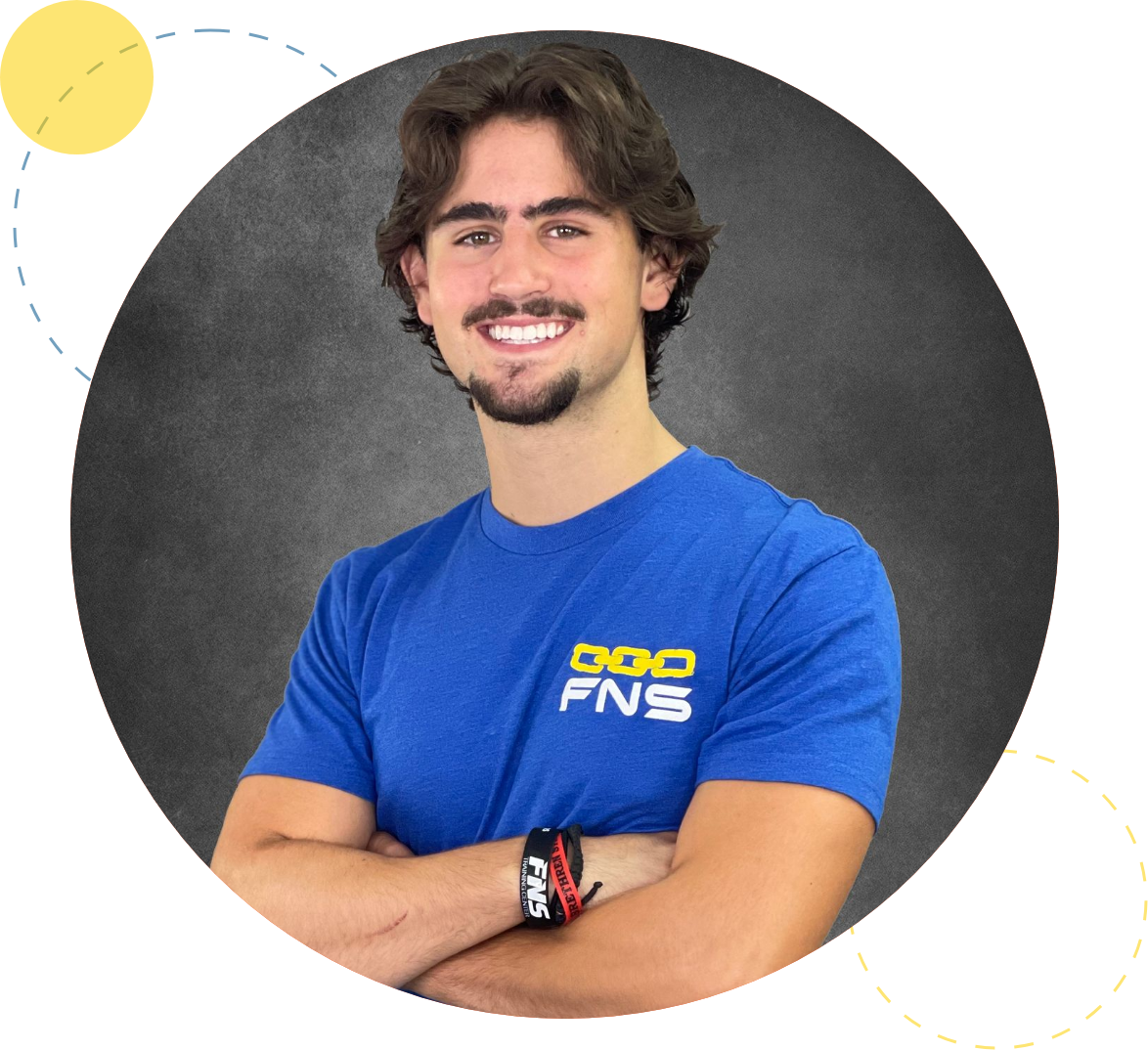 FAVORITE QUOTE
"The most important thing is to try and inspire people so that they can be great in whatever they want to do."
-Kobe Bryant

EDUCATION/ CERTIFICATIONS
Associates/Bachelors in Kinesiology and exercise science (pending)
NASM – Certified Personal Trainer (Pending)
CPR/AED/First Aid
Movement has been something that I loved to do since I was a kid and it led me to find FNS in 2018. Through the coaches before me, they empowered me to become more than just an individual athlete but to be a part of a community that held me accountable and cheers each other on. Now I have the amazing opportunity to not only serve our community but to learn, empathize and educate our athletes on a Daily basis through movement. I will be your biggest cheerleader, but I will challenge you to be the best version of yourself on and off the blue turf! We're in this journey to together and there's no other team I'd rather be part of! We rise together

FAVORITE QUOTE
Believe In yourself. You are braver than you think, more talented than you know & more capable than you imagine
– My DAD

EDUCATION/ CERTIFICATIONS
NASM-CPT
Certified Nutrition Coach
After studying to pursue a career in the medical field, Coach Eurees decided to dive into the fitness world. Coaching and helping others grow to see their potential has always been her passion.   
Eurees was a track athlete for 6 years, a gymnast for 8 years, and dancer for 10 years. Her years as an athlete motivated her to explore body building and led her to be passionate and educated about powerlifting. She believes everyone deserves the right to have good health and be happy with themselves, inside and out.   
As a FNS coach, Eurees hopes to pass on her excitement in fitness and help each athlete reach their goals with knowledge, discipline, and encouragement.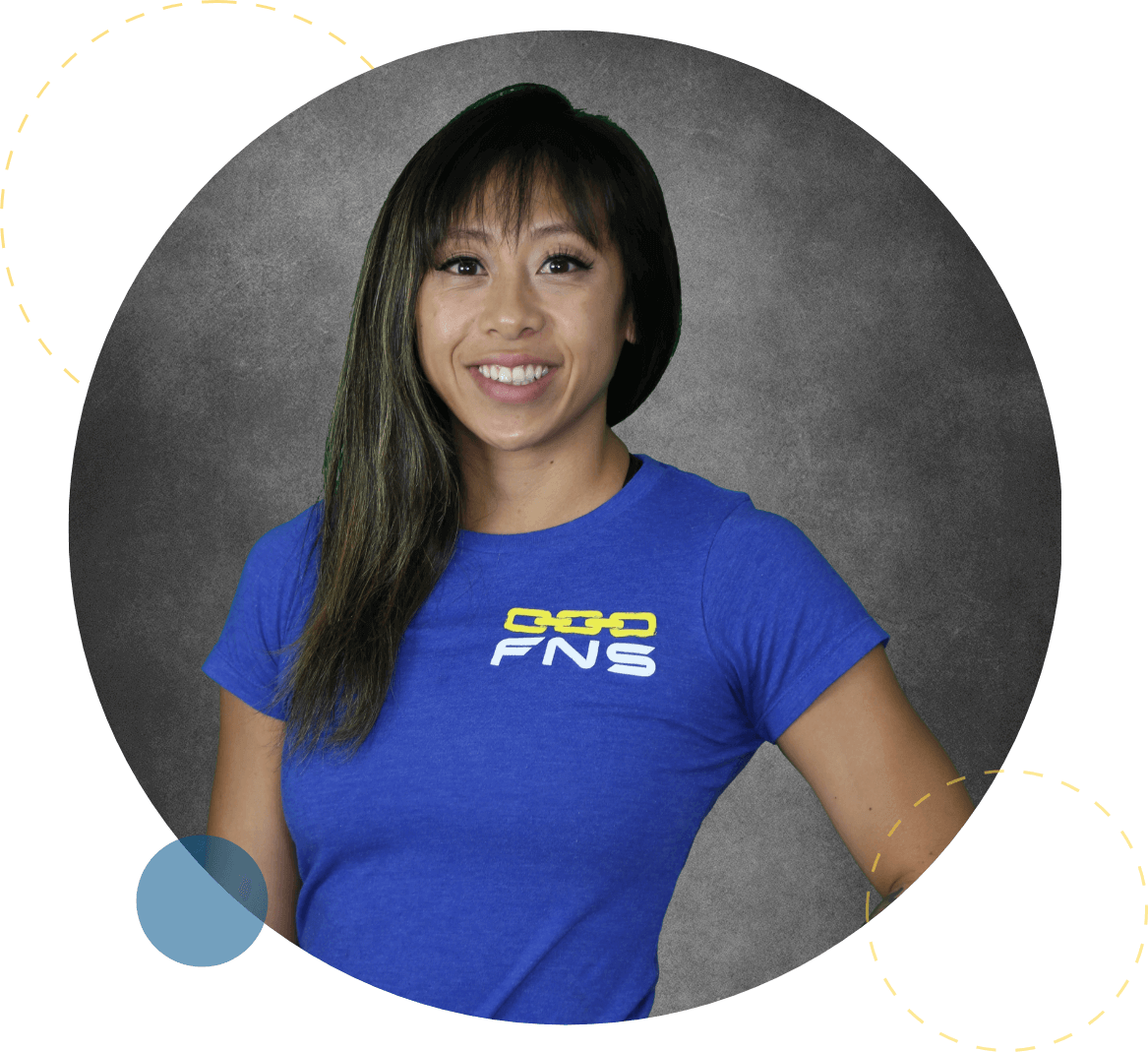 FAVORITE QUOTE
He who is not courageous enough to take risks will accomplish nothing in life.
– Muhammad Ali

EDUCATION/ CERTIFICATIONS
Bachelors in Molecular, Cellular, and Developmental Biology
Associates in Chemistry
NASMP- Certified Personal Trainer AED/CPR/First Aid
USA Gymnastics Junior Olympic Development Coach Certification
Nicholas Comeau has always had a passion for leadership and fitness. This led him to attend a military school, Norwich University.
Here, he pursued an Engineering degree and also commissioned into the United States Army Reserve as a Second Lieutenant. Upon graduation in May 2021, he attended military training in Fort Gordon, GA. He is currently an Engineering Operations Technician for Amazon Web Services. Nicholas has been sharpening his leadership and coaching skill for several years. He is excited to join the FNS community and continue leveling himself and others up!

EDUCATION/ CERTIFICATIONS
Pursued an Engineering Degree
Commissioned into the United States Army Reserve as a Second Lieutenant.
Attended military training in Fort Gordon, GA
Certification – NASM CPT
Estephan attended De Anza college transfer to UC Davis Graduate with Bachelor's in communication. His area of focus was Interpersonal Relationship research, what connects people together, and nonverbal forms of communication. He has been training Powerlifting for 4 years and strive to have a California state record in the 67.6kg weight class before retiring. In his free time, he does woodworking and makes things such as picture frames, small tables, and shelves.

EDUCATION/ CERTIFICATIONS
Bachelor's in communication, UC Davis

FAVORITE QUOTE
"Life doesn't make any sense without interdependence. We need each other, and the sooner we learn that the better for us all."
 — Erik Erikson
Anuj has been an FNS employee and athlete since 2020. He is currently a student at Saint Francis High School and is preparing for college. He is our content editor who helps create the amazing workout videos all our athletes have access to when they are virtual either on the road or at home. He has also been writing since the age of 12 on regular topics with the goal to one day fully bring his life into focus over at AnujShah.com. During the pandemic in 2021, he started the Energy Drive as a reminder to smile, serve, or pray during those tough times.  He has also been doing different styles of martial arts ranging from Karate, Kenpo, Taekwondo, Kung Fu, Boxing, Kickboxing, Jiu Jitsu, and Aikido since he was 4 and is currently working towards his second black belt. In his spare time, he loves to relax with his family or bake.

FAVORITE QUOTE
"Work will always be work unless you can make it play".

EDUCATION/ CERTIFICATIONS
Class of 2024 at Saint Francis High School
Coaching Mixed Martial Arts since 2015 at Gymrate
After graduating from Sonoma State in 2015, Kaitlyn knew she had a passion for helping others which led her to a career in education. Her desire for helping others guided her to obtain master's degree in Counseling from Santa Clara University and working at the university as the Student Success Coordinator for the School of Education and Counseling Psychology. While working there, she knew she wanted to help people change their lives or make a bigger impact. She found FNS in 2020 looking to continue her fitness journey. She quickly realized that she did not just join another gym, she joined a family. She is constantly inspired by the FNS community and can't wait to help FNS athletes reach their goals! When Kaitlyn is not in the gym, she can be found playing volleyball, cheering on the Patriots with her three brothers, or facetiming her fur child Riley. Kaitlyn goes by Staubs.

EDUCATION/ CERTIFICATIONS
B.A in Communications, Sonoma State University
M.A in Counseling, Santa Clara University
ISSA Personal Training Certificate

FAVORITE QUOTE
"Never let the fear of striking out keep me from playing the game "